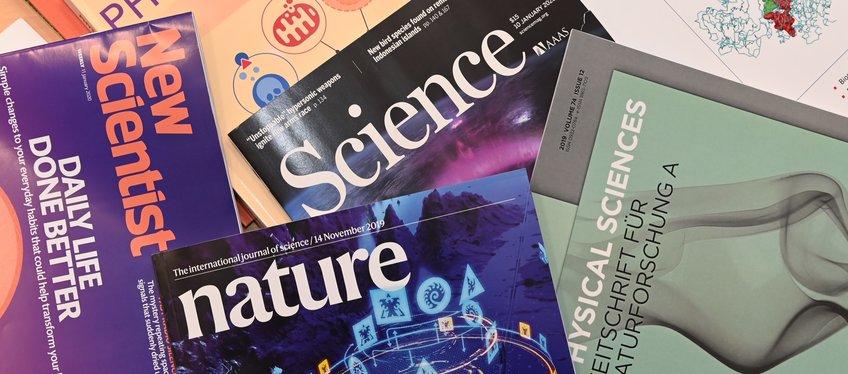 Publikationen der Abteilung für Strukturbiologie
1.
Zeitschriftenartikel
+-translocation in Vibrio cholerae NADH:quinone oxidoreductase. Nature Structural & Molecular Biology (2023)
Conformational coupling of redox-driven Na
2.
Zeitschriftenartikel
Promotion of oxidative phosphorylation by complex I-anchored carbonic anhydrases? Trends in Plant Science (2023)
3.
Zeitschriftenartikel
120
(34), e2301447120 (2023)
Two conformations of the Tom20 preprotein receptor in the TOM holo complex. Proceedings of the National Academy of Sciences of the United States of America
4.
Zeitschriftenartikel
+
transporters of the KUP family in an inward-occluded conformation. Nature Communications
14
, 3683 (2023)
Cyclic di-AMP traps proton-coupled K
5.
Zeitschriftenartikel
2
supercomplex from Arabidopsis thaliana at 2 Å resolution. Nature Plants
9
, S. 142 - 156 (2023)
Cryo-EM structure of the respiratory I + III
6.
Zeitschriftenartikel
2
by cryo-EM. IUCrJ
10
(1), S. 27 - 37 (2023)
Analysis of the conformational heterogeneity of the Rieske iron–sulfur protein in complex III
7.
Zeitschriftenartikel
Conformational changes in mitochondrial complex I of the thermophilic eukaryote Chaetomium thermophilum. Science Advances
8.
Zeitschriftenartikel
Insights into complex I assembly: Function of NDUFAF1 and a link with cardiolipin remodeling. Science Advances
9.
Zeitschriftenartikel
Concluding remarks: Challenges and future developments in biological electron cryo-microscopy. Faraday Discussions
10.
Zeitschriftenartikel
+
-translocating ferredoxin: NAD
+
reductase (Rnf) complex of Clostridium tetanomorphum. Nature Communications
13
, 6315 (2022)
Purification and structural characterization of the Na
11.
Zeitschriftenartikel
Ion transfer mechanisms in Mrp-type antiporters from high resolution cryoEM and molecular dynamics simulations. Nature Communications
12.
Zeitschriftenartikel
33
(7), S. 1293 - 1302 (2022)
Top-Down Identification and Sequence Analysis of Small Membrane Proteins Using MALDI-MS/MS. Journal of the American Society for Mass Spectrometry
13.
Zeitschriftenartikel
The Vibrio vulnificus stressosome is an oxygen-sensor involved in regulating iron metabolism. Communications Biology
14.
Zeitschriftenartikel
Molecular insights into intra-complex signal transmission during stressosome activation. Communications Biology
15.
Zeitschriftenartikel
The molybdenum storage protein forms and deposits distinct polynuclear tungsten oxygen aggregates. Journal of Inorganic Biochemistry
16.
Zeitschriftenartikel
2+
-mediated higher-order assembly of heterodimers in amino acid transport system b
0,+
biogenesis and cystinuria. Nature Communications
13
, 2708 (2022)
Ca
17.
Zeitschriftenartikel
Cyclophilin anaCyp40 regulates photosystem assembly and phycobilisome association in a cyanobacterium. Nature Communications
18.
Zeitschriftenartikel
71
(Supplement 1), S. i30 - i50 (2022)
Forty years in cryoEM of membrane proteins. Microscopy
19.
Zeitschriftenartikel
1
F
o
-ATP synthase and cytochrome bd oxidase of Mycobacterium tuberculosis. Communications Biology
5
(1), 166 (2022)
An amiloride derivative is active against the F
20.
Zeitschriftenartikel
119
(5), e2113536119 (2022)
Rearrangement of a unique Kv1.3 selectivity filter conformation upon binding of a drug. Proceedings of the National Academy of Sciences of the United States of America