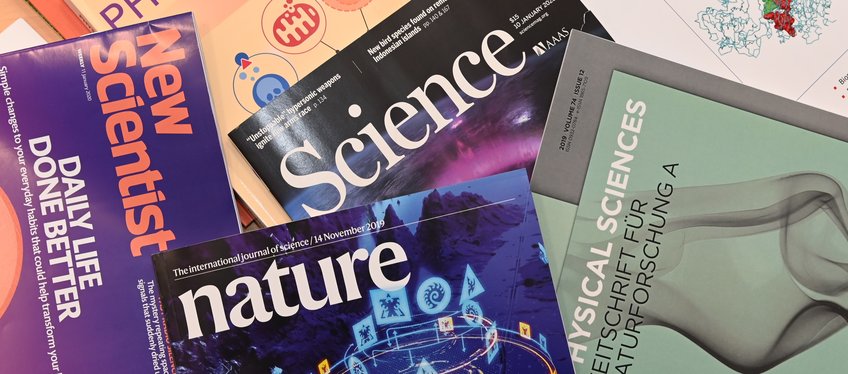 Publikationen der Abteilung für Theoretische Biophysik (TB)
1.
Zeitschriftenartikel
Antibody accessibility determines location of spike surface mutations in SARS-CoV-2 variants. PLoS Computational Biology
2.
Zeitschriftenartikel
Surface Properties of N,N-Dimethylformamide-Water Mixtures, As Seen from Computer Simulations. The Journal of Physical Chemistry B (2023)
3.
Zeitschriftenartikel
Force-tuned avidity of spike variant-ACE2 interactions viewed on the single-molecule level. Nature Communications
4.
Zeitschriftenartikel
Membrane curvature sensing and stabilization by the autophagic LC3 lipidation machinery. Science Advances
5.
Zeitschriftenartikel
Structural ensembles of disordered proteins from hierarchical chain growth and simulation. Current Opinion in Structural Biology
6.
Zeitschriftenartikel
Complexes++: Efficient and versatile coarse-grained simulations of protein complexes and their dense solutions. The Journal of Chemical Physics
7.
Zeitschriftenartikel
Sublytic gasdermin-D pores captured in atomistic molecular simulations. eLife
8.
Zeitschriftenartikel
TriMem: A parallelized hybrid Monte Carlo software for efficient simulations of lipid membranes. The Journal of Chemical Physics
9.
Zeitschriftenartikel
RNA Captures More Cations than DNA: Insights from Molecular Dynamics Simulations. The Journal of Physical Chemistry B (2022)
10.
Zeitschriftenartikel
119
(39), e2209823119 (2022)
In situ structural analysis reveals membrane shape transitions during autophagosome formation. Proceedings of the National Academy of Sciences of the United States of America
11.
Zeitschriftenartikel
Cryo-EM structures of pentameric autoinducer-2 exporter from Escherichia coli reveal its transport mechanism. The EMBO Journal
12.
Zeitschriftenartikel
Nanoporous Membranes of Densely Packed Carbon Nanotubes Formed by Lipid-Mediated Self-Assembly. ACS applied bio materials (2022)
13.
Zeitschriftenartikel
One of the two N-glycans on the human Gb3/CD77 synthase is essential for its activity and allosterically regulates its function. Biochemical and Biophysical Research Communications (Orlando, FL)
14.
Zeitschriftenartikel
13
(32), S. 7490 - 7496 (2022)
Transition Rates and Efficiency of Collective Variables from Time-Dependent Biased Simulations. The Journal of Physical Chemistry Letters
15.
Zeitschriftenartikel
Reversible bond kinetics from single-molecule force spectroscopy experiments close to equilibrium. Physical Review Research
16.
Zeitschriftenartikel
Small ionic radii limit time step in Martini 3 molecular dynamics simulations. The Journal of Chemical Physics
17.
Zeitschriftenartikel
50
(10), S. 5726 - 5739 (2022)
Twisting DNA by salt. Nucleic Acids Research (London)
18.
Zeitschriftenartikel
376
(6598), eabm9506 (2022)
AI-based structure prediction empowers integrative structural analysis of human nuclear pores. Science
19.
Zeitschriftenartikel
82
(11), S. 2006 - 2020.e8 (2022)
Kinase domain autophosphorylation rewires the activity and substrate specificity of CK1 enzymes. Molecular Cell
20.
Zeitschriftenartikel
Multiple-Allele MHC Class II Epitope Engineering by a Molecular Dynamics-Based Evolution Protocol l. Frontiers in immunology