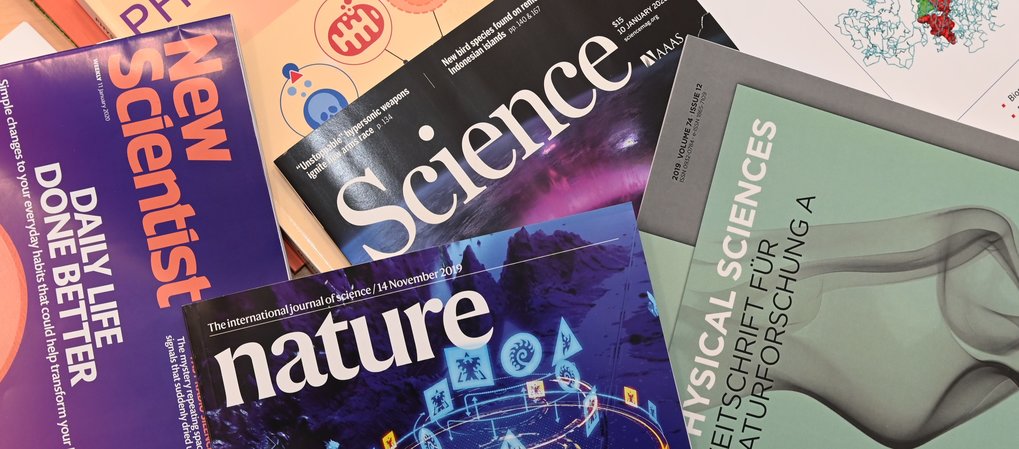 Publikationen der Abteilung für Theoretische Biophysik (TB)
1.
Zeitschriftenartikel
Bacterial OTU deubiquitinases regulate substrate ubiquitination upon Legionella infection. eLife
2.
Zeitschriftenartikel
Atomic Force Microscopy-Based Force Spectroscopy and Multiparametric Imaging of Biomolecular and Cellular Systems. Chemical Reviews (2020)
3.
Zeitschriftenartikel
MDBenchmark: A toolkit to optimize the performance of molecular dynamics simulations. The Journal of Chemical Physics
4.
Zeitschriftenartikel
Desmosome architecture derived from molecular dynamics simulations and cryo-electron tomography. Proceedings of the National Academy of Sciences of the United States of America (2020)
5.
Zeitschriftenartikel
369
(6508), eaaz7714 (2020)
Reconstitution of autophagosome nucleation defines Atg9 vesicles as seeds for membrane formation. Science
6.
Zeitschriftenartikel
In situ structural analysis of SARS-CoV-2 spike reveals flexibility mediated by three hinges. Science, abd5223 (2020)
7.
Zeitschriftenartikel
Compaction of RNA duplexes in the cell. Angewandte Chemie, International Edition in English
8.
Zeitschriftenartikel
In silico discovery and biological validation of ligands of FAD synthase, a promising new antimicrobial target. PLoS Computational Biology
9.
Zeitschriftenartikel
Mechanical Unfolding of Proteins - A Comparative Nonequilibrium Molecular Dynamics Study. Biophysical Journal
10.
Zeitschriftenartikel
Papain-like protease regulates SARS-CoV-2 viral spread and innate immunity. Nature (2020)
11.
Zeitschriftenartikel
p63 uses a switch-like mechanism to set the threshold for induction of apoptosis. Nature Chemical Biology
12.
Zeitschriftenartikel
Validation tests for cryo-EM maps using an independent particle set. Journal of Structural Biology
13.
Zeitschriftenartikel
Optimal estimates of self-diffusion coefficients from molecular dynamics simulations. The Journal of Chemical Physics
14.
Zeitschriftenartikel
Systematic errors in diffusion coefficients from long-time molecular dynamics simulations at constant pressure. The Journal of Chemical Physics
15.
Zeitschriftenartikel
Flexi-pharma: a molecule-ranking strategy for virtual screening using pharmacophores from ligand-free conformational ensembles. Journal of Computer-Aided Molecular Design (2020)
16.
Zeitschriftenartikel
Kinetic pathways of water exchange in the first hydration shell of magnesium. The Journal of Chemical Physics
17.
Zeitschriftenartikel
124
(23), S. 4673 - 4685 (2020)
Quantifying Protein-Protein Interactions in Molecular Simulations. The Journal of Physical Chemistry B
18.
Zeitschriftenartikel
36
(21), S. 5979 - 5989 (2020)
Hofmeister Series for Metal-Cation-RNA Interactions: The Interplay of Binding Affinity and Exchange Kinetics. Langmuir
19.
Zeitschriftenartikel
60
(5), S. 2413 - 2418 (2020)
Need for Cross-Validation of Single Particle Cryo-EM. Journal of Chemical Information and Modeling
20.
Zeitschriftenartikel
368
(6489), eaaz2449, S. 385 (2020)
Structural basis of ER-associated protein degradation mediated by the Hrd1 ubiquitin ligase complex. Science