Oswalt Foundation
Promotion of basic structural and functional research in biology and medicine
Without the Oswalt Foundation, the Max Planck Institute of Biophysics would probably not have survived the difficult financial situation after the Second World War. To this day, the foundation continues to support research on membrane proteins, which are very important for drug development.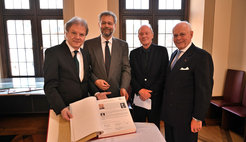 The Max Planck Institute of Biophysics emerged from the "Oswalt Foundation - Institute for the Physical Foundations of Medicine".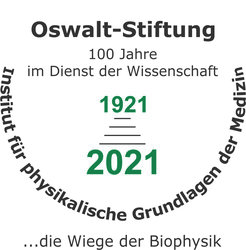 Friedrich Dessauer (1881 - 1963) saw a high potential in radiation research for medical benefit in the discovery of X-rays. He devoted himself intensively to this field of research and developed devices for medical application.
Henry Oswalt (1849 - 1934) and friends of the applied sciences from the Frankfurt citizenry made it possible with their donations in 1920/21 to establish an institute for Friedrich Dessauer, which was initially located at the Goethe University.
After the emigration of Friedrich Dessauer in 1934, Boris Rajewsky (1893 -1974) took over the management and then proceeded to integrate the Institute, which was hardly viable politically and financially, into the Kaiser-Wilhelm-Gesellschaft zur Förderung der Wissenschaften e.V..
With the founding of the Kaiser Wilhelm Institute for Biophysics in 1937, a new research direction was established. With interdisciplinary research approaches, the Max Planck Institute of Biophysics still investigates the building blocks of life, their structure, function and interactions.