European Research Council Funds Bonnie Murphy with Prestigious ERC Starting Grant
Murphy is developing a new method to study elemental composition of biological macromolecules with electron microscopy
As an independent research group leader at the Max Planck Institute of Biophysics, Bonnie Murphy uses cryo-electron microscopy to investigate the structure and function of proteins that play a crucial role in the energy metabolism of living organisms. With her interdisciplinary research project at the intersection of biological and analytical electron microscopy, Murphy was selected for a highly endowed ERC Starting Grant as one of 400 young talents among 2696 applicants.
Text: Katharina Kaefer
Murphy Studies Proteins Involved in Cellular Energy Metabolism
With her research group, Bonnie Murphy studies the structure and function of redox proteins that are, for example, involved in methane generation, CO2 fixation or hydrogen production. Their activity affects our climate and health, and a better understanding could therefore provide new insights for developments in the fields biotechnology or medicine.
Much of the work in Murphy's team relies on cryo-electron microscopy – a technique in which a beam of high-energy electrons penetrates a snap-frozen protein sample and the electrons' interactions with the sample produce an image. The individual images can be processed and combined computationally to produce a high-resolution protein structure.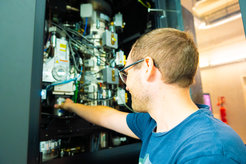 As part of the ERC-funded project, Murphy will technically advance cryo-EM to identify chemical elements in biological macromolecules. 'To really understand how protein complexes carry out their diverse functions in the cell, we don't just need to know the structure of the protein itself, but about the locations of metals and other small molecules that the complex interacts with', says Murphy. 'At the moment, we're missing the tools we would need to accurately understand these essential parts of the complexes we study.' Existing methods for elemental analysis using electron microscopy are not suitable for biological samples because they require the use of very high electron doses, which would completely destroy the sensitive protein samples. The proposed work will combine the established techniques with sophisticated image-processing algorithms to enable identification of metals, other ions or lipids, using low electron doses.
ERC Starting Grants Support Excellent Young Researchers
With her innovative research idea, Bonnie Murphy prevailed among 2696 applicants and was awarded one of 400 highly prestigious ERC Starting Grants totalling over €628 million. The ERC was established in 2007 by the European Union to support cutting-edge research by the best and most creative minds across Europe. The ERC Starting Grants, endowed with an average of €1.5 million, are aimed to help ambitious young scientists launch their own projects, build their research groups and pursue their most innovative ideas.
Murphy Continues Run of Success at Max Planck Institute of Biophysics
Murphy has been pursuing an outstanding scientific career for years. She completed her PhD at the University of Oxford in the United Kingdom and followed up as a postdoctoral researcher there and at the Max Planck Institute of Biophysics in Frankfurt am Main. She has been an independent Max Planck research group leader since 2020. Her early-career achievements have been recognized by her selection as an EMBO Young Investigator in 2022 and the Heinz Maier-Leibnitz Prize in 2023.
With her ERC Starting Grant, Bonnie Murphy joins a series of successes: With Florian Wilfling and Eugene Kim, who were successful in the 2021 and 2022 calls, an ERC Starting Grant has now been awarded to a group leader at the Max Planck Institute of Biophysics three years in a row.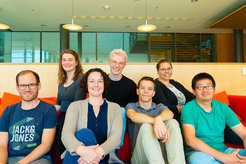 Further Reading:
Press release of the ERC:
https://erc.europa.eu/news-events/news/erc-2023-starting-grants-results
Press release of the Max Planck Society:
https://www.mpg.de/20809070/erc-starting-grants-2023
ERC websites: