Ana J. García-Sáez Becomes First Female Director of the Max Planck Institute of Biophysics
Her research on the molecular mechanisms of cell death complements the biophysical scope of her fellow Directors' work
 
As of October 1, 2023, Ana J. García-Sáez will succeed Nobel laureate Hartmut Michel as the first female Director of the Max Planck Institute (MPI) of Biophysics in Frankfurt am Main. The Spanish scientist will head the new Department of Membrane Dynamics and pursue the question of how our bodies remove damaged cells. She uses sophisticated microscopic methods to study how the mechanics and permeability of cellular membranes regulate cell death.
Text: Katharina Kaefer
The MPI of Biophysics is dedicated to basic research on biological membranes and the functional units of the cell, the organelles. The scientists investigate the structure of cellular building blocks such as proteins and their complexes, and study how they are involved in, for instance, protecting our genetic material, defending the body against pathogens, disposing cellular waste, or managing the cell's energy household.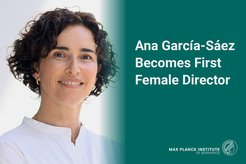 With García-Sáez, the institute is expanding its expertise with regard to regulated cell death, a mechanism by which the organism eliminates damaged cells. What biophysical principles determine whether cell death is initiated? What role do mitochondria, known as the power houses of the cell, play in this process? How do cellular membranes and their mechanics, permeability and alteration influence cell death? García-Sáez approaches these and other exciting questions using state-of-the-art microscopy that allows her to observe individual cells and even visualize single molecules in the cell. Ultimately, understanding the molecular principles behind regulated cell death and its failure in certain diseases, such as cancer, can help develop or improve drugs and medical therapies.
The Directors Beck, Hummer and Kühlbrandt are looking forward to welcome their new renowned colleague. "Ana is a biophysicist par excellence and she will bring an exciting new research line to Frankfurt. Her studies on the molecular principles of cell death decision making are medically highly relevant and will be an asset for our institute," says Martin Beck. García-Sáez is also very happy about her new position, "I feel truly honored to become a scientific member of the Max Planck Society and a director at the MPI of Biophysics. I am thrilled by the new opportunities and the exciting collaborations ahead to move our research forward with the long-term trust and support of the Max Planck Society."
About Ana J. García-Sáez
Ana J. García-Sáez started her outstanding scientific career focusing on cell death with her PhD at the University of Valencia in Spain. After working as a postdoctoral researcher at the Technical University of Dresden, she became a Max Planck Research Group Leader and German Cancer Research Center (DKFZ) Junior Group Leader at Bioquant, an interdisciplinary research center at the University of Heidelberg. Less than 10 years after completing her PhD, García-Sáez was appointed a professorship at the University of Tübingen. In 2019, she accepted a call to the University of Cologne and will continue her research there until the end of 2024 while simultaneously establishing her lab at the MPI of Biophysics. Her scientific achievements have been recognized by her selection as an EMBO Young Investigator and a Henriette Herz-Scout of the Alexander von Humboldt foundation, and by two prestigious ERC (European Research Council) Grants.
Further information:
Website of Ana J. García-Sáez at University of Cologne: https://garcia-saez.cecad-labs.uni-koeln.de/home