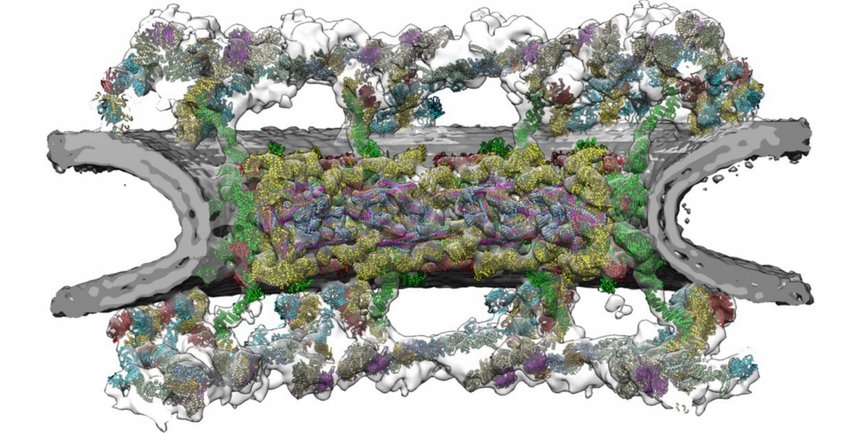 Integrative Structural Biology
Department of Molecular Sociology (MS)
< go back to other projects
Studying architecture of complex macromolecular assemblies in their native context requires the integration of traditional in vitro structural biology methods such as X-ray crystallography and single particle electron microscopy with approaches that facilitate data integration and structural analysis in situ, such as cryo electron tomography, subtomogram averaging and cross-linking mass spectrometry. We are continuously developing novel methods towards this.
---
Selected Publications
AI-based structure prediction empowers integrative structural analysis of human nuclear pores.
Science. 2022 June; 376 (6598). doi: 10.1126/science.abm9506.
Nuclear pores dilate and constrict in cellulo.
Science. 2021 Nov; 374(6573). doi:10.1126/science.abd9776.
Benchmarking tomographic acquisition schemes for high-resolution structural biology.
Nature Communications, 2020. doi: 10.1038/s41467-020-14535-2.
Molecular architecture of the inner ring scaffold of the human nuclear pore complex.
Science. 2016 Apr; 352(6283):363-5. doi: 10.1126/science.aaf0643.
In situ structural analysis of the human nuclear pore complex.
Nature. 2015 Oct; 526(7571):140-143. doi: 10.1038/nature15381.
Xlink Analyzer: software for analysis and visualization of cross-linking data in the context of three-dimensional structures.
J Struct Biol. 2015 Mar;189(3):177-83. doi: 10.1016/j.jsb.2015.01.014.