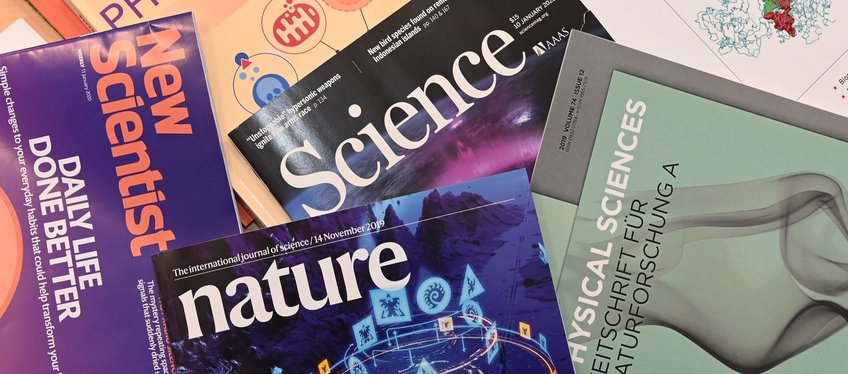 Publikationen des Max-Planck-Institutes für Biophysik
1976
Zeitschriftenartikel
160
(3), S. 467 - 474 (1976)
Phosphate transport into brush-border membrane vesicles isolated from rat small intestine. Biochemical Journal
Zeitschriftenartikel
455
(2), S. 353 - 370 (1976)
Effects of incorporated trypsin on anion exchange and membrane proteins in human red blood cell ghosts. Biochimica et Biophysica Acta-Biomembranes
Zeitschriftenartikel
89
(4), S. 805 - 810 (1976)
Differences in neutral amino acid and glucose transport between brush border and basolateral plasma membrane of intestinal epithelial cells. Journal of Cellular Physiology
Zeitschriftenartikel
32
(4-6), S. 251 - 276 (1976)
Membrane function of the kidney / Die Membranfunktion der Niere. Bulletin der Schweizerischen Akademie der Medizinischen Wissenschaften
Zeitschriftenartikel
2
DIDS). Journal of Membrane Biology
29
(1), S. 147 - 177 (1976)
A study of the relationship between inhibition of anion exchange and binding to the red blood cell membrane of 4,4′-diisothiocyano stilbene-2,2′-disulfonic acid (DIDS) and its dihydro derivative (H
Zeitschriftenartikel
22
(11), S. 1469 - 1474 (1976)
Inorganic ions in spermathecal fluid and their transport across the spermathecal membrane of the queen bee, Apis mellifera. Journal of Insect Physiology
Zeitschriftenartikel
++
fluxes in isolated cells of rat pancreas. Effect of secretagogues and different Ca
++
concentrations. Journal of Membrane Biology
29
(1-2), S. 185 - 203 (1976)
Ca
Zeitschriftenartikel
3
(3-4), S. 509 - 518 (1976)
Conformational changes of spectrin as a result of calcium binding. Bioelectrochemistry and Bioenergetics
Zeitschriftenartikel
443
(3), S. 525 - 533 (1976)
Photo-activated inhibition of sulfate equilibrium exchange in human erythrocyte ghosts by a 4-azido-2-nitrobenzoate derivative of phlorizin. Biochimica et Biophysica Acta-Biomembranes
Zeitschriftenartikel
80
(9), S. 846 - 849 (1976)
The Membrane/Water Partition Coefficients of Ions: Electrostatic Calculations of Dielectric Heterogeneity. Berichte der Bunsen-Gesellschaft
Zeitschriftenartikel
2+
reabsorption in the proximal tubule of the rat kidney. Dependence on sodium- and buffer transport. Pflügers Archiv: European Journal of Physiology
364
(3), S. 223 - 228 (1976)
Active Ca
Zeitschriftenartikel
363
(3), S. 251 - 253 (1976)
Measurement of Na K ATPase activity in segments of proximal tubules from superficial and juxtamedullary rat nephrons during antidiuresis. Pflügers Archiv: European Journal of Physiology
Zeitschriftenartikel
436
(1), S. 113 - 127 (1976)
The interaction of secretin with pancreatic membranes. Biochimica et Biophysica Acta-Biomembranes
Zeitschriftenartikel
433
(3), S. 509 - 519 (1976)
The surface membrane of the small intestinal epithelial cell. I. Localization of adenyl cyclase. Biochimica et Biophysica Acta-Biomembranes
Zeitschriftenartikel
433
(2), S. 294 - 310 (1976)
Analysis of the pinocytic process in rat kidney II. Biochemical composition of pinocytic vesicles compared to brush border microvilli, lysosomes and basolateral plasma membranes. Biochimica et Biophysica Acta-Biomembranes
Zeitschriftenartikel
426
(4), S. 598 - 615 (1976)
Phenylalanine uptake in isolated renal brush border vesicles. Biochimica et Biophysica Acta-Biomembranes
Zeitschriftenartikel
Phosphate transport by isolated renal brush border vesicles. Pflügers Archiv: European Journal of Physiology
Zeitschriftenartikel
154
(3), S. 597 - 604 (1976)
Sodium/proton antiport in brush-border-membrane vesicles isolated from rat small intestine and kidney. Biochemical Journal
Zeitschriftenartikel
31c
(3-4), S. 174 - 178 (1976)
Reversible transformation of precipitated and nonprecipitated lipoproteins recombined from proteins and lipids of erythrocyte membranes. Zeitschrift für Naturforschung, C: Journal of Biosciences
Zeitschriftenartikel
20
(3), S. 789 - 797 (1976)
Thermodynamic and mechanistic characterization of water sorption in homogeneous and asymmetric cellulose acetate membranes. Journal of Applied Polymer Science
Zeitschriftenartikel
62
(2), S. 182 - 185 (1976)
Sidedness of the inhibitory action of disulfonic acids on chloride equilibrium exchange and net transport across the human erythrocyte membrane. FEBS Letters
Zeitschriftenartikel
9
(2), S. 134 - 148 (1976)
Renal tubular mechanisms of organic solute transport. Kidney International
Zeitschriftenartikel
419
(1), S. 76 - 92 (1976)
Calcium ion uptake in isolated pancreas cells induced by secretagogues. Biochimica et Biophysica Acta-Biomembranes
Zeitschriftenartikel
Effect of cyclic nucleotides on the isotonic fluid reabsorption in the proximal convoluted tubule of rat kidney. Current problems in clinical biochemistry
Zeitschriftenartikel
361
(3), S. 269 - 277 (1976)
Transport of p-aminohippuric acid by plasma membrane vesicles isolated from rat kidney cortex. Pflügers Archiv: European Journal of Physiology
Zeitschriftenartikel
2+
Binding to Spectrin. Journal of the Electrochemical Society
123
(9), S. 1313 (1976)
Electrochemical Investigations Concerning Ca
Zeitschriftenartikel
123
(3), S. 370 - 374 (1976)
Ion Exchange Capacity of Cellulose Acetate Membranes. Journal of the Electrochemical Society
Zeitschriftenartikel
Polarity of proximal tubular epithelial cells in relation to transepithelial transport. Current Problems in Clinical Biochemistry
Zeitschriftenartikel
Separation mit synthetischen Membranen durch Ultra- und Hyperfiltration. Galvanotechnik
Zeitschriftenartikel
Method to detect volume flows in the nanoliter range. Review of Scientific Instruments
1976
Buchkapitel
8
, S. 209 - 267 (Hg. Bronner, F.; Kleinzeller, A.). Academic Press, New York (1976)
Properties of the Glucose Transport System in the Renal Brush Border Membrane. In: Current Topics in Membranes and Transport, Bd.
Buchkapitel
3
, S. 267 - 276 (Hg. Sélégny, E.; Boyd, G.; Gregor, H. P.). Springer, Dordrecht-Holland (1976)
Membrane Potentials of Asymmetric Cellulose Acetate Membranes. In: Charged Gels and Membranes; in: Charged and Reactive Polymers, Bd.
1976
Konferenzbeitrag
Polarity of Epithelial Cells in Relation to Transepithelial Transport in Kidney and Intestine. In: Intestinal Ion Transport, S. 79 - 100 (Hg. Robinson, J.W.L.). Proceedings of the International Symposium on Intestinal Ion Transport , Titisee, Switzerland, 1975-05. MTP Press Ltd 1976 Springer Science+Business Media B.V. 1976, Dordrecht-Holland (1976)
1976
Vortrag
Grenzschichtphänomene beim Stofftransport durch synthetische Membranen. Jahrestreffen der Verfahrens-Ingenieure, Karlsruhe, Germany (1976)
1976
Hochschulschrift - Doktorarbeit
Elektrisches und elektroosmotisches Transportverhalten asymmetrischer Celluloseacetatmembranen. Dissertation, 131 S., Johann Wolfgang Goethe-Universität, Frankfurt am Main (1976)
Hochschulschrift - Doktorarbeit
Isolierung und Charakterisierung von Proteinen in der Erythrocytenmembran. Dissertation, Johann Wolfgang Goethe-Universität, Frankfurt am Main (1976)