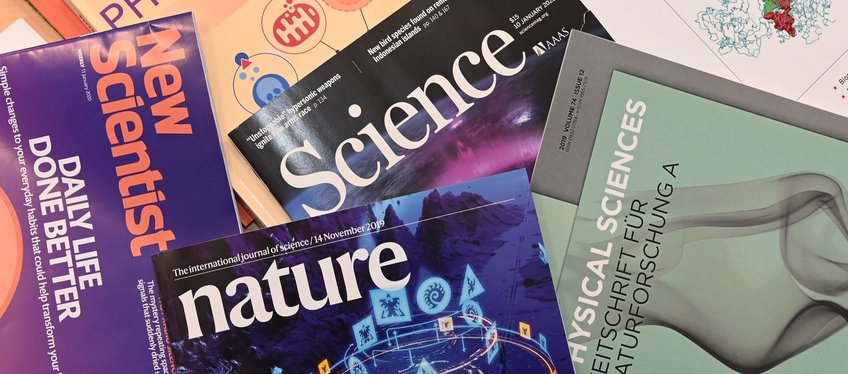 Publikationen des Max-Planck-Institutes für Biophysik
1987
Zeitschriftenartikel
905
(2), S. 390 - 398 (1987)
Time-resolved protonation dynamics of a black lipid membrane monitored by capacitative currents. Biochimica et Biophysica Acta-Biomembranes
Zeitschriftenartikel
2+
and proteolytic digestion of the membrane skeleton on the mechanical properties of the red blood cell membrane. Biochimica et Biophysica Acta-Biomembranes
905
(1), S. 181 - 194 (1987)
Effects of intracellular Ca
Zeitschriftenartikel
+
,K
+
-ATPase. FEBS Letters
224
(1), S. 83 - 88 (1987)
Kinetics of pump currents generated by the Na
Zeitschriftenartikel
30
(5), S. 577 - 582 (1987)
Synthesis and biological activities of a photoaffinity probe for vasotocin and oxytocin receptors. Chemical Biology & Drug Design
Zeitschriftenartikel
410
(4-5), S. 487 - 494 (1987)
Characteristics of apical chloride channels in human colon cells (HT29). Pflügers Archiv: European Journal of Physiology
Zeitschriftenartikel
410
(4-5), S. 481 - 486 (1987)
Axial heterogeneity of sodium-bicarbonate cotransport in proximal straight tubule of rabbit kidney. Pflügers Archiv: European Journal of Physiology
Zeitschriftenartikel
+
of p-aminohippuric acid uptake into rat renal basolateral membrane vesicles. American Journal of Physiology-Renal Physiology
253
(5 Pt 2), S. F795 - F801 (1987)
Indirect coupling to Na
Zeitschriftenartikel
410
(4-5), S. 501 - 504 (1987)
Contraluminal bicarbonate transport in the proximal tubule of the rat kidney. Pflügers Archiv: European Journal of Physiology
Zeitschriftenartikel
2+
transport and (Ca
2+
+ K
+
)-stimulated Mg
2+
-dependent transport ATPase in rat pancreatic endoplasmic reticulum. The Journal of Biological Chemistry
262
(28), S. 13758 - 13764 (1987)
Anion dependence of Ca
Zeitschriftenartikel
Sodium and potassium currents in acutely demyelinated internodes of rabbit sciatic nerves. Journal of Physiology
Zeitschriftenartikel
+
channels in the basolateral membrane of rabbit proximal straight tubules. Pflügers Archiv: European Journal of Physiology
410
(3), S. 288 - 295 (1987)
Properties of single K
Zeitschriftenartikel
1
pig kidney epithelial cells by salmon calcitonin or a photoactivatable analogue of vasopressin. Biochimica et Biophysica Acta-Molecular Cell Research
930
(3), S. 392 - 400 (1987)
Long-term stimulation of cAMP production in LLC-PK
Zeitschriftenartikel
930
(3), S. 419 - 431 (1987)
Nucleocytoplasmic protein traffic in single mammalian cells studied by fluorescence microphotolysis. Biochimica et Biophysica Acta-Molecular Cell Research
Zeitschriftenartikel
419
(1-2), S. 55 - 64 (1987)
Differential effects of pentylenetetrazole on ion currents of Aplysia neurones. Brain Research
Zeitschriftenartikel
147
(1), S. 375 - 381 (1987)
Inhibition of sodium-dependent transport systems in rat renal brush-border membranes with N,N'-dicyclohexylcarbodiimide. Biochemical and Biophysical Research Communications
Zeitschriftenartikel
2+
-activated K
+
currents in the membrane of human erythrocytes. Biochimica et Biophysica Acta-Biomembranes
902
(2), S. 159 - 168 (1987)
Temperature dependence of Ca
Zeitschriftenartikel
+
-D-glucose cotransporter. The Journal of Biological Chemistry
262
(22), S. 10718 - 10727 (1987)
Identification of D-glucose-binding polypeptides which are components of the renal Na
Zeitschriftenartikel
893
(1), S. 60 - 68 (1987)
Electrogenic transport properties of bacteriorhodopsin containing chemically modified retinal analogues. Biochimica et Biophysica Acta, Bioenergetics
Zeitschriftenartikel
Contraluminal para-aminohippurate transport in the proximal tubule of the rat kidney. III. Specificity: monocarboxylic acids. Pflügers Archiv: European Journal of Physiology
Zeitschriftenartikel
+
currents generated by the purified Na
+
K
+
-ATPase on planar lipid membranes. Biochimica et Biophysica Acta-Biomembranes
901
(2), S. 239 - 249 (1987)
Na
Zeitschriftenartikel
164
(1), S. 12 - 22 (1987)
Reaction of monoclonal antibodies with plasma membrane proteins after binding on nitrocellulose: Renaturation of antigenic sites and reduction of nonspecific antibody binding. Analytical Biochemistry
Zeitschriftenartikel
409
(3), S. 229 - 235 (1987)
Contraluminal para-aminohippurate (PAH) transport in the proximal tubule of the rat kidney. I. Kinetics, influence of cations, anions, and capillary preperfusion. Pflügers Archiv: European Journal of Physiology
Zeitschriftenartikel
2+
ATPase of sarcoplasmic reticulum vesicles adsorbed on black lipid membranes. Biochimica et Biophysica Acta-Biomembranes
900
(2), S. 209 - 220 (1987)
Electrical pump currents generated by the Ca
Zeitschriftenartikel
900
(2), S. 169 - 174 (1987)
New evidence for the essential role of arginine residues in anion transport across the red blood cell membrane. Biochimica et Biophysica Acta-Biomembranes
Zeitschriftenartikel
The "small" conductance chloride channel in the luminal membrane of the rectal gland of the dogfish (Squalus acanthias). Pflügers Archiv: European Journal of Physiology
Zeitschriftenartikel
409
(1-2), S. 100 - 106 (1987)
Potassium channels in the basolateral membrane of the rectal gland of the dogfish (Squalus acanthias). Pflügers Archiv: European Journal of Physiology
Zeitschriftenartikel
Chloride channels in the luminal membrane of the rectal gland of the dogfish (Squalus acanthias). Pflügers Archiv: European Journal of Physiology, S. 114 - 121 (1987)
Zeitschriftenartikel
99
(2), S. 127 - 136 (1987)
Potential dependence of the "electrically silent" anion exchange across the plasma membrane of Xenopus oocytes mediated by the band-3 protein of mouse red blood cells. Journal of Membrane Biology
Zeitschriftenartikel
26
(2-3), S. 217 - 224 (1987)
Kinetics and mechanism of anionic ligand binding to carbonic anhydras. Biophysical Chemistry
Zeitschriftenartikel
26
(2-3), S. 313 - 320 (1987)
The kinetics of binding of o-methyl red to the outer surface of unilamellar spherical phospholipid vesicles. Biophysical Chemistry
Zeitschriftenartikel
408
(5), S. 511 - 514 (1987)
Characterization of human sweat duct chloride conductance by chloride channel blockers. Pflügers Archiv: European Journal of Physiology
Zeitschriftenartikel
11
(5), S. 349 - 358 (1987)
Sodium-dependent and sodium-independent phosphate uptake by full-grown, prophase-arrested oocytes of Xenopus laevis before and after progesterone-induced maturation. Cell Biology International Reports
Zeitschriftenartikel
+
/H
+
exchangers. Biochemical and Biophysical Research Communications
144
(2), S. 869 - 875 (1987)
Species differences between rat and rabbit renal Na
Zeitschriftenartikel
33
(5), S. 1809 - 1822 (1987)
Solute–membrane interactions in hyperfiltration. Journal of Applied Polymer Science
Zeitschriftenartikel
143
(3), S. 1018 - 1023 (1987)
Photoaffinity labeling studies of the rat renal sodium bile salt cotransport system. Biochemical and Biophysical Research Communications
Zeitschriftenartikel
2+
-activated K
+
current in Aplysia neurones. Biochimica et Biophysica Acta-Biomembranes
897
(1), S. 201 - 205 (1987)
Fluctuations of the Ca
Zeitschriftenartikel
31
(2), S. 590 - 596 (1987)
The cortical thick ascending limb and early distal convoluted tubule in the urinary concentrating mechanism. Kidney International
Zeitschriftenartikel
1
cells: recovery from an acid load via basolateral Na
+
/H
+
exchange. Journal of Membrane Biology
97
(1), S. 63 - 78 (1987)
Measurements of intracellular pH in single LLC-PK
Zeitschriftenartikel
Efficiency of synthetic membranes in comparison with biological membranes. Desalination
Zeitschriftenartikel
46
(2-3), S. S46 - S50 (1987)
Reconstitution of the erythrocyte anion transport system: recent progress. Biomedica biochimica acta
Zeitschriftenartikel
408
(1), S. 38 - 45 (1987)
Contraluminal para-aminohippurate (PAH) transport in the proximal tubule of the rat kidney. II. Specificity: aliphatic dicarboxylic acids. Pflügers Archiv: European Journal of Physiology
Zeitschriftenartikel
408
(1), S. 54 - 62 (1987)
Analogues of torasemide - structure function relationships - experiments in the thick ascending limb of the loop of Henle of rabbit nephron. Pflügers Archiv: European Journal of Physiology
1987
Buchkapitel
Electrolyte and fluid secretion in the exocrine pancreas. In: Physiology of the gastrointestinal tract, 2nd edition Aufl., S. 1147 - 1171 (Hg. Johnson, L. R.). Raven Press, New York (1987)
Buchkapitel
The role of phosphatidylinositides in stimulus-secretion coupling in the exocrine pancreas. In: Society of General Physiologists Series, Bd.
Buchkapitel
Ursachen großer und kleiner Irrtümer über die Funktion der Niere. In: Irrtümer in der Wissenschaft, S. 116 - 129 (Hg. Czeschlik, D.). Springer-Verlag, Berlin, Heidelberg (1987)
Buchkapitel
149
, S. 271 - 280 (Hg. Green, R.; Widder, K. J.). Academic Press (1987)
Preparation of white resealable erythrocyte ghosts. In: Methods in Enzymology, Bd.
1987
Konferenzbeitrag
Photoreactive Agonists and Antagonists of Neuroypophysial Hormones for Receptor Studies. In: European Peptide Symposium: Peptides, S. 469 - 472 (Hg. Theodoropoulos, D.). Proceedings of the 19th European Peptide Symposium, Porto Carras, Chalkidiki, Greece, 31. August 1986 - 05. September 1986. De Gruyter, Berlin (1987)
Konferenzbeitrag
- pump halorhodopsin. In: Retinal Proteins, S. 363 - 379 (Hg. Ovchinnikov, Y.A.). Proceedings of an International Conference on Retinal Proteins, Irkutsk, (Lake Baikal) USSR, 22. Juli 1986 - 28. Juli 1986. VNU Science Press, Utrecht, The Netherlands (1987)
Electrical properties of the light driven Cl
Konferenzbeitrag
+-ATPase and Anion Conductance in Pig Renal Cortical Endocytotic Vesicles. Proceedings of the 8th International Symposium , Dubrovnik, Yugoslavia, 05. Oktober 1986 - 08. Oktober 1986. Molecular Nephrology, S. 57 - 62 (1987)
Electrogenic H
Konferenzbeitrag
+-D-Glucose Cotransport Proteins in Brush-Border Membranes from Renal Cortex. Proceedings of the 8th International Symposium , Dubrovnik, Yugoslavia, 05. Oktober 1986 - 08. Oktober 1986. Molecular Nephrology, S. 13 - 19 (1987)
Identification of Components of Na
Konferenzbeitrag
Affinity Labels as Substrates for the Anion Transport Systems at the Contraluminal Cell Side of the Renal Proximal Tubule. Proceedings of the 8th International Symposium , Dubrovnik, Yugoslavia, 05. Oktober 1986 - 08. Oktober 1986. Molecular Nephrology, S. 85 - 90 (1987)
1987
Hochschulschrift - Doktorarbeit
Characterization of Band 3 Protein-mediated Anion Transport across the Human Red Blood Cell Membrane after Modification by Dansyl Chloride. Dissertation, 209 S., Faculteit der Wiskunde en Naturwetenschappen, Rijksuniversiteit te Leiden, Netherlands (1987)
Hochschulschrift - Doktorarbeit
Die Rekonstitution des Anionentransportsystems der menschlichen Erythrozytenmembran. Dissertation, 119 S., Fachbereich Biochemie, Pharmazie und Lebensmittelchemie, Johann Wolfgang Goethe-Universität Frankfurt, Frankfurt am Main (1987)
Hochschulschrift - Doktorarbeit
Modifikation des Anionentransportproteins in menschlichen Erythrozytenmembranen mit Argininspezifischen Reagentien. Dissertation, Fachbereich Biochemie, Pharmazie, Lebensmittelchemie, Johann Wolfgang Goethe-Universität, Frankfurt am Main (1987)
1987
Hochschulschrift - Habilitation
Charakterisierung der Na/K-ATPase und regulatorische Änderungen von Transportprozessen während der Reifungsphase von Xenopus Oocyten. Habilitation, Johann Wolfgang Goethe-Universität Frankfurt, Frankfurt am Main (1987)
1987
Hochschulschrift - Diplom
Untersuchungen von Vasopressinrezeptoren mittels immunologischer und biochemischer Methoden. Diplom, Johann Wolfgang Goethe-Universität Frankfurt, Frankfurt am Main (1987)
Hochschulschrift - Diplom
Untersuchungen am rekonstituierten Anionen-Transportsystem der Erythrozytenmembran: Versuche zur Isolierung "kleiner" Proteoliposomen. Diplom, Fachbereich Biochemie, Pharmazie, Lebensmittelchemie, Johann Wolfgang Goethe-Universität, Frankfurt am Main (1987)
Hochschulschrift - Diplom
Versuche zur Erzeugung von monoklonalen Antikörpern gegen Hormonrezeptoren in Zellmembrnen. Diplom, Johann Wolfgang Goethe-Universität Frankfurt, Frankfurt am Main (1987)