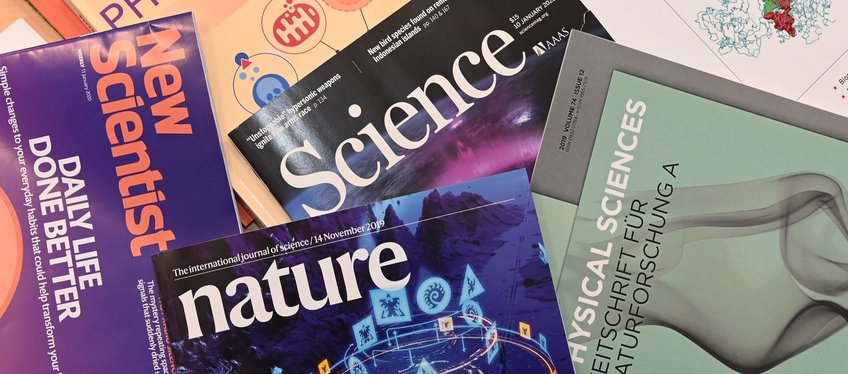 Publikationen des Max-Planck-Institutes für Biophysik
1995
Zeitschriftenartikel
5A
serotonin receptor in the methylotrophic yeast Pichia pastoris: pharmacological characterization and localization. FEBS Letters
377
(3), S. 451 - 456 (1995)
Expression of functional mouse 5-HT
Zeitschriftenartikel
+
pumping. FEBS Letters
377
(2), S. 263 - 266 (1995)
Functional expression of bacteriorhodopsin in oocytes allows direct measurement of voltage dependence of light induced H
Zeitschriftenartikel
14
(24), S. 6067 - 6077 (1995)
Crystal structure of the flavohemoglobin from Alcaligenes eutrophus at 1.75 A resolution. The EMBO Journal
Zeitschriftenartikel
232
(2), S. 254 - 258 (1995)
Total in vitro synthesis of plasmid DNA facilitates site-directed mutagenesis. Analytical Biochemistry
Zeitschriftenartikel
11
(12), S. 4735 - 4741 (1995)
Imaging homogeneous and composite latex particles with atomic force microscpe. Langmuir
Zeitschriftenartikel
23
(4), S. 561 - 565 (1995)
Fermenter Production of an Artificial Fab Fragment, Rationally Designed for the Antigen Cystatin, and Its Optimized Crystallization Through Constant Domain Shuffling. Proteins: Structure, Function, and Bioinformatics
Zeitschriftenartikel
215
(3), S. 961 - 967 (1995)
High level production and localization of bovine rod cGMP-gated cation channel subunit 1 in baculovirus-infected insect cells and Saccharomyces cerevisiae. Biochemical and Biophysical Research Communications
Zeitschriftenartikel
34
(42), S. 13794 - 13801 (1995)
Expression of the Human Oxytocin Receptor in Baculovirus-infected Insect Cells: High-Affinity Binding Is Induced by a Cholesterol-Cyclodextrin Complex. Biochemistry
Zeitschriftenartikel
4
(9), S. 1670 - 1682 (1995)
Predicting the structure of the light-harvesting complex II of Rhodospirillum molischianum. Protein Science
Zeitschriftenartikel
34
(42), S. 13784 - 13793 (1995)
Alteration of the Myometrial Plasma Membrane Cholesterol Content with ß-Cyclodextrin Modulates the Binding Affinity of the Oxytocin Receptor. Biochemistry
Zeitschriftenartikel
v
fragment-mediated crystallization of the membrane protein bacterial cytochrome c oxidase. Nature Structural and Molecular Biology
2
(10), S. 842 - 846 (1995)
F
Zeitschriftenartikel
99
(43), S. 15728 - 15732 (1995)
Measuring Electrochemically Induced Surface Stress with an Atomic Force Microscope. The Journal of Physical Chemistry
Zeitschriftenartikel
130
(6), S. 1319 - 1332 (1995)
Involvement of the GTP binding protein Rho in constitutive endocytosis in Xenopus laevis oocytes. The Journal of Cell Biology: JCB
Zeitschriftenartikel
34
(36), S. 11335 - 11343 (1995)
Electron Transfer from the Tetraheme Cytochrome to the Special Pair in the Rhodopseudomonas viridis Reaction Center: Effect of Mutations of Tyrosine L162. Biochemistry
Zeitschriftenartikel
+
/K
+
-ATPase by measurements of the fluorescence-detected electric dichroism. Biochimica et Biophysica Acta, Bioenergetics
1321
(2), S. 181 - 188 (1995)
Electric parameters of Na
Zeitschriftenartikel
711
(1), S. 181 - 186 (1995)
High-performance liquid chromatographic purification of extremely hydrophobic peptides: transmembrane segments. Journal of Chromatography A
Zeitschriftenartikel
56
(1-2), S. 153-157 (1995)
Bacteriorhodopsin mutants D85N, D85T and D85,96N as proton pumps. Biophysical Chemistry
Zeitschriftenartikel
376
(6542), S. 660 - 669 (1995)
Structure at 2.8 Å resolution of cytochrome c oxidase from Paracoccus denitrificans. Nature
Zeitschriftenartikel
231
(3), S. 823 - 830 (1995)
Isolation and structural characterization of trimeric cyanobacterial photosystem I complex with the help of recombinant antibody fragments. European Journal of Biochemistry
Zeitschriftenartikel
231
(3), S. 535 - 543 (1995)
Selection and characterization of mammalian cell lines with stable over-expression of human pituitary receptors for gonadoliberin. European Journal of Biochemistry
Zeitschriftenartikel
38
(1), S. 191 - 201 (1995)
Measuring surface forces in aqueous electrolyte solution with the atomic force microscope. Bioelectrochemistry and Bioenergetics
Zeitschriftenartikel
+
/organic cations in the rat proximal tubule. Kinetics, dependence on pH; specificity as compared with the contraluminal organic cation-transport system. Pflügers Archiv: European Journal of Physiology
430
(4), S. 477 - 492 (1995)
Luminal transport system for H
Zeitschriftenartikel
34
(29), S. 9325 - 9332 (1995)
Roles of histidine 752 and glutamate 699 in the pH dependence of mouse band 3 protein-mediated anion transport. Biochemistry
Zeitschriftenartikel
2
DIDS binding. Biochemistry
34
(29), S. 9315 - 9324 (1995)
Inhibition of mouse erythroid band 3-mediated chloride transport by site-directed mutagenesis of histidine residues and its reversal by second site mutation of Lys 558, the locus of covalent H
Zeitschriftenartikel
212
(2), S. 673 - 680 (1995)
The amino-terminal fragment of the adenylate cyclase activating polypeptide (PACAP) receptor functions as a high affinity PACAP binding domain. Biochemical and Biophysical Research Communications
Zeitschriftenartikel
69
(1), S. 30 - 41 (1995)
Calcium pump kinetics determined in single erythrocyte ghosts by microphotolysis and confocal imaging. Biophysical Journal
Zeitschriftenartikel
1230
(3), S. 147 - 154 (1995)
Spectroscopic properties of the light-harvesting complexes from Rhodospirillum molischianum. Biochimica et Biophysica Acta, Bioenergetics
Zeitschriftenartikel
B
. Biochemistry
34
(25), S. 7967 - 7972 (1995)
Interruption of the Water Chain in the Reaction Center from Rhodobacter sphaeroides Reduces the Rates of the Proton Uptake and of the Second Electron Transfer to Q
Zeitschriftenartikel
43
(6), S. 607 - 614 (1995)
Use of Antibody Fragments (Fv) in Immunocytochemistry. Journal of Histochemistry and Cytochemistry
Zeitschriftenartikel
47
(6), S. 1647 - 1657 (1995)
Transport interactions of different organic cations during their excretion by the intact rat kidney. Kidney International
Zeitschriftenartikel
230
(2), S. 806 - 812 (1995)
The influence of two anion-transport inhibitors, 4,4'-diisothiocyanatodihydrostilbene-2,2'-disulfonate and 4,4'-dibenzoylstilbene-2,2'-disulfonate, on the self-association of erythrocyte band 3 protein. European Journal of Biochemistry
Zeitschriftenartikel
230
(1), S. 359 - 363 (1995)
Immunoelectron microscopy and epitope mapping with monoclonal antibodies suggest the existence of an additional N-terminal transmembrane helix in the cytochrome b subunit of bacterial ubiquinol: cytochrome-c oxidoreductases. European Journal of Biochemistry
Zeitschriftenartikel
2+
. Journal of Membrane Biology
145
, S. 151 - 64 (1995)
Electrical currents generated by a partially purified Na/Ca exchanger from lobster muscle reconstituted into liposomes and adsorbed on black lipid membranes: Activation by photolysis of caged Ca
Zeitschriftenartikel
99
(18), S. 7102 - 7107 (1995)
End-Group-Dominated Molecular Order in Self-Assembled Monolayers. The Journal of Physical Chemistry
Zeitschriftenartikel
21
(4), S. 351 - 353 (1995)
Crystallization and preliminary X‐ray diffraction studies of a bacterial flavohemoglobin protein. Proteins: Structure, Function, and Bioinformatics
Zeitschriftenartikel
11
(4), S. 1061 - 1064 (1995)
Deposition of Organic Material by the Tip of a Scanning Force Microscope. Langmuir
Zeitschriftenartikel
11
(4), S. 1065 - 1067 (1995)
Artifacts in Force Measurements with the Atomic Force Microscope Due to Digitalization. Langmuir
Zeitschriftenartikel
2
vasopressin receptors. FEBS Letters
362
(1), S. 19 - 23 (1995)
An extracellular residue determines the agonist specificity of V
Zeitschriftenartikel
2
vasopressin receptor by a plasma membrane metalloproteinase. The Journal of Biological Chemistry
270
(12), S. 6476 - 6481 (1995)
Ligand-induced cleavage of the V
Zeitschriftenartikel
The CFTR chloride channel of mammalian heart. Annual Review of Physiology
Zeitschriftenartikel
Engineered Fv Fragments as a Tool for the One-Step Purification of Integral Multisubunit Membrane Protein Complexes. Nature Biotechnology
Zeitschriftenartikel
178
(2), S. 201 - 209 (1995)
Bifunctional and multimeric complexes of streptavidin fused to single chain antibodies (scFv). Journal of Immunological Methods
Zeitschriftenartikel
227
(1-2), S. 137 - 142 (1995)
Periplasmic sulphide dehydrogenase (Sud) from Wolinella succinogenes: isolation, nucleotide sequence of the sud gene and its expression in Escherichia coli. European Journal of Biochemistry
Zeitschriftenartikel
227
(1-2), S. 466 - 475 (1995)
Characterization of the rat m3 muscarinic acetylcholine receptor produced in insect cells infected with recombinant baculovirus. European Journal of Biochemistry
Zeitschriftenartikel
99
(2), S. 780 - 789 (1995)
Dielectric relaxation of colloidal particle suspensions at radio frequencies caused by surface conductance. The Journal of Physical Chemistry
Zeitschriftenartikel
Calculation of thermal noise in atomic force microscopy. Nanotechnology
Zeitschriftenartikel
66
(2), S. 1258 - 1259 (1995)
Height calibration of optical lever atomic force microscopes by simple laser interferometry. Review of Scientific Instruments
Zeitschriftenartikel
16
(5), S. 851 - 857 (1995)
A new tritiated oxytocin receptor radioligand—Synthesis and application for localization of central oxytocin receptors. Peptides
Zeitschriftenartikel
A
Site of the Photosynthetic Reaction Center of Rhodobacter sphaeroides Calculated by Minimizing the Statistical Error. The Journal of Physical Chemistry
99
(51), S. 17917 - 17925 (1995)
Free Energy of Cofactors at the Quinone-Q
Zeitschriftenartikel
V
fragment against an integral membrane protein diffracting to 1.28 Å resolution. Proteins: Structure, Function, and Bioinformatics
21
, S. 74 - 77 (1995)
Crystals of an antibody F
Zeitschriftenartikel
+
/Organic Cation Exchanger, and Luminal Choline Transporter. Cellular Physiology and Biochemistry
5
(4), S. 290 - 298 (1995)
Morphine Analogues: Relationship between Chemical Structure and Interaction with Proximal Tubular Transporters – Contraluminal Organic Cation and Anion Transporter, Luminal H
1995
Buchkapitel
2
, S. 503 - 526 (Hg. Blankenship , R. E.; Madigan , M. T.; Bauer, C. E.). Kluwer Academic Publishers 1995, Springer, Dordrecht (1995)
The Structures of Photosynthetic Reaction Centers from Purple Bacteria as Revealed by X-Ray Crystallography. In: Advances in Photosynthesis and Respiration, Bd.
Buchkapitel
117
, S. 201 - 219 (Hg. Greger, R. F.; Knauf, H.; Mutschler, E.). Springer-Verlag, Berlin, Heidelberg (1995)
Interaction of Diuretics with Transport Systems in the Proximal Renal Tubule. In: Handbook of Experimental Pharmacology, Bd.
1995
Konferenzbeitrag
67
, 848 Aufl., S. 101 - 107 (1995)
Surface structure of latex films, varnishes, and paint films studied with an atomic force microscope. FSCT. Annual meeting & Paint Industries' Show, St. Louis, 09. Oktober 1995. Journal of Coating Technology
Konferenzbeitrag
Probing Membrane Protein Conformations with an Extrinsic Fluorophore. In: Spectroscopy of Biological Molecules, S. 409 - 410 (Hg. Merlin, J. C.; Turrell, S.; Huvenne, J. P.). 6th European Conference on the Spectroscopy of Biological Molecules, Villeneuve d'Ascq, France, 03. September 1995 - 08. September 1995. Springer Science+Business Media, Dordrecht (1995)
Konferenzbeitrag
CD Spectroscopy and Structure Prediction of a Transmembrane Protein Region. In: Spectroscopy of Biological Molecules, S. 395 - 396 (Hg. Merlin , J. C.; Turrell, S.). 6th European Conference on the Spectroscopy of Biological Molecules, Villeneuve d'Ascq, France, 03. September 1995 - 08. September 1995. Springer Science+Business Media Dordrecht 1995 (1995)
1995
Hochschulschrift - Doktorarbeit
Protein Design mit Antikörpern: Generierung und röntgenkristallographische Charakterisierung synthetischer Antigenbindungsstellen. Dissertation, 199 S., Fachbereich Biochemie, Pharmazie, Lebensmittelchemie, Johann Wolfgang Goethe-Universität, Frankfurt am Main (1995)
Hochschulschrift - Doktorarbeit
+/K+-ATPase aus dem elektrischen Organ von Electrophorus electricus. Dissertation, 126 S., Fachbereich Biochemie, Pharmazie und Lebensmittelchemie, Johann Wolfgang Goethe-Universität Frankfurt, Frankfurt am Main (1995)
Zeitlich hochaufgelöste Untersuchungen zum Ladungstransport der Na
Hochschulschrift - Doktorarbeit
Konstruktion eines Lipocalins mit neuen Eigenschaften. Dissertation, 126 S., Fachbereich Biochemie, Pharmazie und Lebensmittelchemie, Johann Wolfgang Goethe-Universität, Frankfurt am Main (1995)
Hochschulschrift - Doktorarbeit
Kristallisation des Membranproteinkomplexes Cytchrome c Oxidase mit Hilfe eines Antikkörpers-Fv-Fragmentes. Dissertation, 204 S., Fachbereich Chemie, Johann Wolfgang Goethe-Universität, Frankfurt am Main (1995)
Hochschulschrift - Doktorarbeit
Die Kinetik des Elektronentransfers von der Cytochrome-c-Untereinheit zum primären Donor in Einkristallen des photosynthetischen Reaktionszentrums von Rhodopseudomonas viridis. Dissertation, 161 S., Fachbereich Biochemie, Pharmazie und Lebensmittelchemie, Johann Wolfgang Goethe-Universität, Frankfurt am Main (1995)
Hochschulschrift - Doktorarbeit
Das Bilin-Bindungsprotein aus Pieris brassicae - die ß-Barrel Proteinarchitektur als Grundlage für die evolutive Generierung von Rezeptormolekülen mit neuen Bindungseigenschaften. Dissertation, 195 S., Fachbereich Biochemie, Pharmazie, Lebensmittelchemie, Johann Wolfgang Goethe-Universität, Frankfurt am Main (1995)
Hochschulschrift - Doktorarbeit
Potentialkontrollierte Kraftmessungen mit einem Rasterkraftmikroskop auf einer Platinoberfläche. Dissertation, 84 S., Fachbereich Biochemie, Pharmazie, Lebensmittelchemie, Johann Wolfgang Goethe-Universität, Frankfurt am Main (1995)
1995
Hochschulschrift - Habilitation
Rasterkraftmikroskopie an Biologischen Objekten (Atomic force microscopy of biological objects). Habilitation, Johann Wolfgang Goethe-Universität Frankfurt, Frankfurt am Main (1995)
Hochschulschrift - Habilitation
Elektrogene Schritte im Reaktionszyklus von NaK- und HK-ATPase. Habilitation, 126 S., Fachbereich Biochemie, Pharmazie und Lebensmittelchemie, Johann Wolfgang Goethe-Universität Frankfurt, Frankfurt am Main (1995)
Hochschulschrift - Habilitation
Molekulares Design von Proteinen mit neuen Bindungseigenschaften. Habilitation, Fachbereich Biochemie, Pharmazie und Lebensmittelchemie, Johann Wolfgang Goethe-Universität, Frankfurt am Main (1995)
1995
Hochschulschrift - Diplom
Synthese einer Affinitätsmatrix zur Aufreinigung eines heterolog produzierten Serotoninrezeptors. Diplom, 95 S., Fachbereich Chemie, Philipps-Universität Marburg, Marburg, Germany (1995)
Hochschulschrift - Diplom
Röntgenkristallographische Untersuchung des Reaktionszentrums von Rhodobacter sphaeroides mit ausgetauschtem Chinon A. Diplom, 114 S., Institut für Organische Chemiw, Johann Wolfgang Goethe-Universität Frankfurt, Frankfurt am Main (1995)
Hochschulschrift - Diplom
+/K+-Pumpe: Eine elektrophysiologische Analyse an Oozyten von Xenapus laevis. Diplom, 106 S., Fachbereich Physik, Johann Wolfgang Goethe-Universität Frankfurt, Frankfurt am Main (1995)
Die Wirkung von Inhibitoren von Ionenkanälen auf die Na