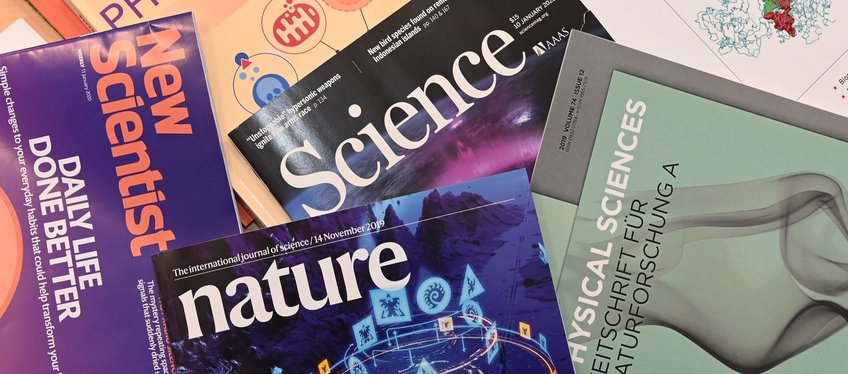 Publikationen des Max-Planck-Institutes für Biophysik
2004
Zeitschriftenartikel
12
(12), S. 2249 - 2256 (2004)
Structure of Xanthine Oxidase-Related 4-Hydroxybenzoyl-CoA Reductase with an Additional [4Fe-4S] Cluster and an Inverted Electron Flow. Structure
Zeitschriftenartikel
87
(6), S. 4298 - 4315 (2004)
Calculated Coupling of Transmembrane Electron and Proton Transfer in Dihemic Quinol: Fumarate Reductase. Biophysical Journal
Zeitschriftenartikel
Ion pump in the movies. Nature
Zeitschriftenartikel
1666
(1-2), S. 2 - 18 (2004)
Lipids in Membrane Protein Structures. Biochimica et Biophysica Acta: BBA
Zeitschriftenartikel
11
(10), S. 1339 - 1350 (2004)
Molecular dynamics simulation links conformation of a pore-flanking region to hyperekplexia-related dysfunction of the inhibitory glycine receptor. Chemistry & Biology
Zeitschriftenartikel
1702
, S. 121 - 124 (2004)
Crystallization and preliminary X-ray crystallographic analysis of strictosidine synthase from Rauvolfia: the first member of a novel enzyme family. Biochimica et Biophysica Acta-Proteins and Proteomics
Zeitschriftenartikel
43
(37), S. 11709 - 11716 (2004)
Tyrosine-167: The Origin of the Radical Species Observed in the Reaction of Cytochrome c Oxidase with Hydrogen Peroxide in Paracoccus denitrificans. Biochemistry
Zeitschriftenartikel
1701
(1-2), S. 129 - 132 (2004)
Vinorine synthase from Rauvolfia: the first example of crystallization and preliminary X-ray diffraction analysis of an enzyme of the BAHD superfamily. Biochimica et Biophysica Acta-Proteins and Proteomics
Zeitschriftenartikel
340
(5), S. 1143 - 1152 (2004)
Controlled Unfolding and Refolding of a Single Sodium-proton Antiporter using Atomic Force Microscopy. Journal of Molecular Biology (London)
Zeitschriftenartikel
1
Complex from Saccharomyces cerevisiae As Monitored by FTIR Difference Spectroscopy and
13
C Specific Labeling. Biochemistry
43
, S. 8439 - 8446 (2004)
Direct Evidence for the Interaction of Stigmatellin with a Protonated Acidic Group in the bc
Zeitschriftenartikel
279
(26), S. 26922 - 26931 (2004)
The MAM (Meprin/A5-protein/PTPmu) Domain Is a Homophilic Binding Site Promoting the Lateral Dimerization of Receptor-like Protein-tyrosine Phosphatase µ. The Journal of Biological Chemistry
Zeitschriftenartikel
23
(13), S. 2488 - 2497 (2004)
Two-substrate association with the 20S proteasome at single-molecule level. The EMBO Journal
Zeitschriftenartikel
i2
α fusion protein after heterologous production in baculovirus-infected insect cells. European Journal of Biochemistry
271
, S. 1677 - 1689 (2004)
Comparative analysis of high-affinity ligand binding and G protein coupling of the human CXCR1 chemokine receptor and of a CXCR1-G
Zeitschriftenartikel
86
(4), S. 1873 - 1889 (2004)
Dynamic Water Networks in Cytochrome c Oxidase from Paracoccus denitrificans Investigated by Molecular Dynamics Simulations. Biophysical Journal
Zeitschriftenartikel
420
-dependent secondary alcohol dehydrogenase, a member of the bacterial luciferase family. Structure
12
(3), S. 361 - 370 (2004)
Coenzyme binding in F
Zeitschriftenartikel
Crystallization of 4-hydroxybenzoyl-CoA reductase and the structure of its electron donor ferredoxin. Acta Crystallographica. Section D: Biological Crystallography (Copenhagen)
Zeitschriftenartikel
Spectral dynamics in the B800 band of LH2 from Rhodospirillum molischianum: a single-molecule study. New Journal of Physics
Zeitschriftenartikel
Characterization of the Menaquinone Reduction Site in the Diheme Cytochrome b Membrane Anchor of Wolinella succinogenes NiFe-hydrogenase. Journal of Biological Chemistry
Zeitschriftenartikel
2
and heteromeric P2X
1+2
receptor subtypes. Journal of Molecular Biology
342
, S. 333 - 343 (2004)
Trimeric architecture of homomeric P2X
Zeitschriftenartikel
Molecular Ionics of Anion Receptor Molecules. A microcalorimetric study. Journal of Thermal Analysis and Calorimetry
Zeitschriftenartikel
Nucleotide / Protein Interaction. Energetic and structural features of Na,K-ATPase. Journal of Thermal Analysis and Calorimetry
Zeitschriftenartikel
+
-dependent anion leak. Journal of Physiology
557
, S. 747 - 759 (2004)
New inhibitors for the neutral amino acid transporter ASCT2 reveal its Na
Zeitschriftenartikel
2S
Receptor in the Methylotrophic Yeast P. pastoris. Receptors and Channels
10
(1), S. 37 - 50 (2004)
Production of the Human D
Zeitschriftenartikel
+
,K
+
pumping and neurotransmitter uptake by ß-amyloid. Neuroscience
126
, S. 61 - 67 (2004)
Modulation of Na
Zeitschriftenartikel
Protein kinase-independent activation of CFTR by phosphatidylinositol phosphates. EMBO Reports
Zeitschriftenartikel
14
E
8
and C
16
E
8
/H
2
O Systems. Langmuir
20
(5), S. 1620 - 1630 (2004)
Thermodynamic and Kinetic Study of the Sphere-to-Rod Transition in Nonionic Micelles. Aggregation and Stress Relaxation in C
Zeitschriftenartikel
Aquaporin homologues in plants and mammals transport ammonia. FEBS Letters
Zeitschriftenartikel
"Vision" in Single-Celled Algae. News in Physiological Sciences
Zeitschriftenartikel
43
, S. 9204 - 9213 (2004)
Supramolecular Photosystem II Organization in Grana Thylakoid Membranes: Evidence for a Structured Arrangement. Biochemistry
Zeitschriftenartikel
271
(3), S. 568 - 580 (2004)
High level cell-free expression and specific labeling of integral membrane proteins. European Journal of Biochemistry
Zeitschriftenartikel
+
,K
+
-ATPase by kinetic analysis. Biochemistry
43
, S. 2241 - 2250 (2004)
Identification of potential regulatory sites of the Na
Zeitschriftenartikel
5
(4), S. 282 - 295 (2004)
Biology, Structure and Mechanism of P-type ATPases. Nature Reviews Molecular Cell Biology
Zeitschriftenartikel
Neutral, acidic, and basic derivatives of anthranilamide that confer different formal charge to reducing oligosaccharides. Carbohydrate Research
Zeitschriftenartikel
Amino acid type selective isotope labelling of the multidrug ABC transporter LmrA for solid-state NMR studies. FEBS Letters
Zeitschriftenartikel
42
, S. 4458 - 4465 (2004)
Metallo-Supramolecular Block Copolymer Micelles: Improved Preparation and Characterization. Journal of Polymer Science, Part A: Polymer Chemistry
Zeitschriftenartikel
43
, S. 12606 - 12613 (2004)
Sugar Binding Induced Charge Translocation in the Melibiose Permease from Escherichia coli. Biochemistry
Zeitschriftenartikel
3
(Suppl. 2), S. 109 - 111 (2004)
CFTR, investigated with the two-electrode voltage-clamp technique: the importance of knowing the series resistance. Journal of Cystic Fibrosis
Zeitschriftenartikel
Assembly of nicotinic a7 subunits in Xenopus oocytes is partially blocked at the tetramer level. FEBS Letters
Zeitschriftenartikel
1
receptor. The Journal of Biological Chemistry
279
, S. 6426 - 6433 (2004)
Desensitization masks nanomolar potency of ATP for the P2X
Zeitschriftenartikel
4
Synthase at 4.5 Å Resolution in Projection. Structure
12
, S. 2009 - 2014 (2004)
Human Leukotriene C
Zeitschriftenartikel
279
, S. 36884 - 36891 (2004)
The three isoforms of the light-harvesting complex II - Spectroscopic features, trimer formation, and functional roles. The Journal of Biological Chemistry
Zeitschriftenartikel
Cloning, Transport Properties, and Differential Localization of Two Splice Variants of GLT-1 in the Rat CNS: Implications for CNS Glutamate Homeostasis. Glia
Zeitschriftenartikel
340
(3), S. 513 - 524 (2004)
The Bacterial Protein-Translocation Complex: SecYEG Dimers Associate with One or Two SecA Molecules. Journal of Molecular Biology
Zeitschriftenartikel
X-ray structure of a protein-conducting channel. Nature
Zeitschriftenartikel
Protein structure determination by a combination of long wavelength sulphur phasing and radiation damage induced phasing. Acta Crystallographica Section D-Biological Crystallography
Zeitschriftenartikel
+
/Proline Transporter of E. coli. Journal of Molecular Biology
343
, S. 931 - 942 (2004)
Charge Translocation During Cosubstrate Binding in the Na
Zeitschriftenartikel
Different functional roles of arginine residues 39 and 61 and tyrosine residue 98 in transport and channel mode of the glutamate transporter EAAC1. Biochimica et Biophysica Acta: BBA
Zeitschriftenartikel
337
(5), S. 1137 - 1147 (2004)
Projection Structure and Oligomeric State of the Osmoregulated Sodium/Glycine Betaine Symporter BetP of Corynebacterium glutamicum. Journal of Molecular Biology
2004
Buch
Elektrophysiologie. Shaker, Aachen (2004), 199 S.
2004
Buchkapitel
Respiratory Chain Complex II and Succinate: Quinone Oxidoreductases. In: Encylopedia of Biological Chemistry, S. 681 - 687 (Hg. Lennarz, W.; Lane, M.D.). Elsevier, Oxford, UK (2004)
Buchkapitel
2
, S. 331 - 349 (Hg. Vladimir M., V. M.). Springer-Verlag, Berlin, Heidelberg (2004)
Transport Proteins on Solid-Supported Membranes: From Basic Research to Drug Discovery. In: Springer Series on Chemical Sensors and Biosensors (Methods and Applications), Bd.
Buchkapitel
3
, S. 586 - 594 (Hg. Lennarz, W. J.). Academic Press, Elsevier (2004)
Purple Bacteria: Photosynthetic Reaction Centers. In: Encyclopedia of Biological Chemistry, Bd.
Buchkapitel
15
, S. 57 - 85 (Hg. Zannoni, D.). Kluwer Academic Publishers, Dordrecht, NL (2004)
Structure and function of succinate: quinone oxidoreductases and the role of quinol: fumarate reductases in fumarate respiration. In: Advances in Photosynthesis and Respiration, Bd.
2004
Konferenzbeitrag
32
(2), 2 Aufl., S. 269 - 272 (2004)
Hyperthermophilic and salt-dependent formyltransferase from Methanopyrus kandleri. Thermophiles 2003, University of Exeter, UK, 15. September 2003 - 19. September 2003. Biochemical Society Transactions
Konferenzbeitrag
+
-translocating reduced nicotinamide adenine dinucleotide: quinone oxidoreductase in detergent solution - an ultracentrifugation study. 13th International Symposium on Analytical Ultracentrifugation, Osnabrück, Germany, 06. März 2003 - 07. März 2003. Progress in Colloid and Polymer Science
127
, S. 48 - 53 (2004)
The state of association of the Na
2004
Hochschulschrift - Doktorarbeit
Untersuchungen zur Regulation von CFTR-Chloridkanälen durch Nukleotide und Phosphatidylinositolphosphate. Dissertation, Johann Wolfgang Goethe-Universität, Frankfurt am Main (2004)
Hochschulschrift - Doktorarbeit
Investigation of rapid charge movements of the neuronal GABA transporter GAT1. Dissertation, 106 S., Fachbereich Chemische und pharmazeutische Wissenschaften, Johann Wolfgang Goethe-Universität Frankfurt, Frankfurt am Main (2004)
Hochschulschrift - Doktorarbeit
Determination of the structure of complex I of Yarrowia lipolytica by single particle analysis. Dissertation, Johann Wolfgang Goethe-Universität, Frankfurt am Main (2004)
Hochschulschrift - Doktorarbeit
Production of recombinant human endothelin B receptor in different hosts and its subsequent solubilization and purification. Dissertation, Johann Wolfgang Goethe-University, Frankfurt am Main (2004)
Hochschulschrift - Doktorarbeit
Investigation of Coupled Electron and Proton Transfer in the Quinol: Fumarate Reductase from Wolinella succinogenes with Electrochemically Induced FTIR and VIS Difference Spectroscopy and Multiconformation Continuum Electrostatic Calculations. Dissertation, Johann Wolfgang Goethe-University, Frankfurt am Main (2004)
Hochschulschrift - Doktorarbeit
Der neuronale GABA-Transporter 1: Identifizierung des Kanal-Modus und Regulation. Dissertation, 124 S., Chemische und Pharmazeutische Wissenschaften, Johann Wolfgang Goethe-Universität, Frankfurt am Main (2004)
Hochschulschrift - Doktorarbeit
High level production, characterization, and structural analysis of neuronal calcium-activated potassium channels. Dissertation, Johann Wolfgang Goethe-Universität, Frankfurt am Main (2004)
Hochschulschrift - Doktorarbeit
Molecular Dynamics Simulations and Hydrogen-Bonded Network Dynamics of Cytochrome c Oxidase from Paracoccus denitrificans. Dissertation, Johann Wolfgang Goethe-University, Frankfurt am Main (2004)
Hochschulschrift - Doktorarbeit
Überproduktion, Aufreinigung, Funktions- und Strukturanalyse und intramembrane Lokalisierung der Glutamat-Transporter GltP aus E. coli und GLT-1 aus Rattenhirn. Dissertation, 250 S., Johann Wolfgang Goethe-Universität, Frankfurt am Main (2004)
Hochschulschrift - Doktorarbeit
Wechselwirkung des Cytochrome-bc1-Komplexes aus Saccharomyces cerevisiae mit seinen Substraten sowie mit der Cytochrome-c-Oxidase. Dissertation, Johann Wolfgang Goethe-University, Frankfurt am Main (2004)
Hochschulschrift - Doktorarbeit
+,K+-ATPase und der Na+,K+-ATPase. Dissertation, Johann Wolfgang Goethe-Universität, Frankfurt am Main (2004)
Konformationsdynamik von P-Typ ATPasen am Beispiel der H
2004
Hochschulschrift - Habilitation
Untersuchungen zu Mechanismus und Regulation des aktiven und passiven Ionentransports durch Membranproteine. Habilitation, Johann Wolfgang Goethe-Universtität, Frankfurt am Main (2004)
2004
Hochschulschrift - Diplom
Produktion und Reinigung von Disulfidbrücken-stabilisierten Antikörper-Fv-Fragmenten in Pichia pastoris. Diplom, Fachbereich 14: Chemische und Pharmazeutische Wissenschaften, Johann Wolfgang Goethe-Universität Frankfurt, Frankfurt am Main (2004)
Hochschulschrift - Diplom
+/K+-ATPase. Diplom, Johann Wolfgang Goethe-Universität, Frankfurt am Main (2004)
Influence of divalent transition metal cations on signal generation in voltage-clamp fluorimetric studies on the Na
Hochschulschrift - Diplom
2-adrenergen Rezeptors nach heterologer Produktion in der methylotrophen Hefe Pichia pastoris. Diplom, 123 S., Fachbereich Biochemie, Johann Wolfgang Goethe-Universität Frankfurt, Frankfurt am Main (2004)
Optimierung der Reinigung des humanen β
Hochschulschrift - Diplom
Austausch von Aminosäuren in der Transmembran-Untereinheit der Chinol: Fumarat-Reduktase von Wolinella succinogenes und Charakterisierung der Variantenenzyme. Diplom, Johann Wolfgang Goethe-University, Frankfurt am Main (2004)
Hochschulschrift - Diplom
+H+ Antiporters aus Methanococcus Jannaschii. Diplom, Johann Wolfgang Goethe-Universität, Frankfurt am Main (2004)
Biologische cryo-Elektronenmikroskopie mit neuartigen TiSi-Trägerfolien und strukturelle Untersuchungen an 2D-Kristallen des Na
Hochschulschrift - Diplom
2-Untereinheit von Homo sapiens für die Two-Electrode-Voltage-Clamp-Fluorometry durch die Identifizierung und Charakterisierung einer molekularen Sensorposition. Diplom, Johann Wolfgang Goethe-Universität, Frankfurt am Main (2004)
Erschließung der Na,K-ATPase α